When are services?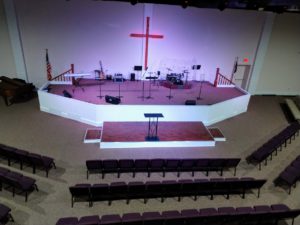 On Sunday Mornings, we meet for Bible Study at 9:15 am.  Worship begins at 10:00 am.  We respectfully ask that no food or drink be brought into our sanctuary/worship center.
Our mid-week services are on Wednesday evenings.  AWANA clubs for children and youth group activities begin at 6pm.  Prayer Meeting for Adults begins at 6:30 pm in the sanctuary.  All of these activities end at approximately 7:30 pm.
What should I wear to your services?
The members of our congregation wear a variety styles for worship services.  Some people choose to dress more formally, while others dress in a casual style.  You will be welcomed into our services, regardless of your attire.
What are services like?
Music is an interactive experience. Here at TC@RO, we have a blended style of worship, incorporating hymns as well as newer contemporary worship selections. We invite you to join us as we praise God!
Do children attend the services with the adults?
Children are welcome to remain in services with their families if the parents desire, but we offer nursery services for babies through age 3, so that parents are able to participate fully in worship. Older children sit with their parents during the first part of the service, but then are released to Children's Church just before the sermon.  Age-appropriate activities and a short lesson are provided for children during this time in the Fellowship Hall.  Children are brought back to the sanctuary at the end of the service where they are picked up by their parents.
Offering
We believe that tithes and offerings are an act of worship, obedience, celebration, and thanksgiving to the Lord. There are multiple ways to give:
Cash and checks made out to The Church at River Oaks are accepted in the offering plate or in offering boxes at the sanctuary doors
Credit cards are accepted using the Tithe.ly app available on your device's app store, the hub.tcro.org kiosks, or at tcro.org/give.